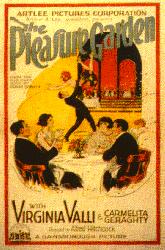 SYNOPSIS
Virginia Valli and Carmelita Geraghty star as two chorus dancers at a music hall called "The Pleasure Garden." When both their male companions travel to the Tropics, the two women are left to their own devices. While the naive Valli remains loyal to her husband, Geraghty enjoys the "wild life."
Valli eventually follows after her husband (Miles Mander) only to find him involved with a native woman. The plot thickens when Mander murders the native and goes mad. Now his beserker rage turns on his wife.
TRIVIA
Produced in Munich, Germany
Customs officials confiscated the film stock during a "location shoot" in Austria.
Although shot a year before, the film wasn't actually released in the UK until after "The Lodger" was a hit in 1927.
Hitch's first COMPLETED feature. His first directorial attempt was the abandoned "Number 13" production three years earlier.