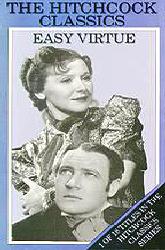 SYNOPSIS
Isabel Jeans plays a married woman whose drunken husband accuses her of an affair with a young artist. The artist kills himself and she files for divorce.
Now, a disgraced woman of "easy virtue," she flees to the Riviera where she adopts a new identity. There she meets a rich young suitor (Robin Irvine) whom she marries.
Unfortunately, the honeymoon is short-lived, when the bride-groom's snobbish family finds out about her past.
TRIVIA
Film tackles a range of issues relating to divorce, including alcoholism and adultery, that would become taboo after adoption of the Production Code in 1934.
Based on the Noel Coward stage play.
Hitch didn't care for film, though, the switchboard operator sequence was his favorite part of the movie. His least favorite was the final title card image: "Go ahead and shoot. There's nothing left to kill." Critics, on the other hand, applauded the final image.