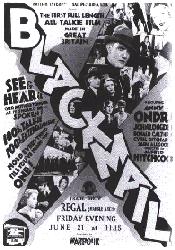 SYNOPSIS
Anny Ondra is Alice, the daughter of a shopkeeper in 1920's London. She secretly arranges a rendevous with an artist and goes off to his studio where he attempts to rape her. She defends herself but kills him accidently with a bread knife. When the body is discovered, John Longden, a Scotland Yard detective is assigned to the case.
While Longden is a police detective, he is also Alice's boyfriend. He is determined to protect Alice from the murder charge but unfortunately, a criminal who witnessed the stabbing wishes to blackmail her.
TRIVIA
Generally acknowledged as the first British talkie, Hitchcock shot the majority of the film as a "silent" but then re-shot certain scenes when the technology was introduced.
Anny Ondra did not speak English so another actress, standing just out of frame, spoke her words and Anny mimicked them as her own.
The use of sound became another effective tool in Hitchcock's films. A perfect example here would be the breakfast scene where the only word distinguishable is "knife."