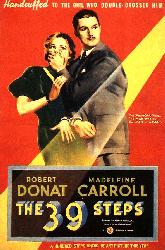 SYNOPSIS
Robert Donat is a Canadian visitor to London. After a presentation of the "Mr. Memory" show at a music hall, he meets Annabella Smith who claims her life is in danger from enemy spies.
When she is murdered in his flat, he must flee to Scotland to expose the spy ring, as well as, exonerate himself of the woman's murder. With both Scotland Yard and the spies hot on his trail, he finds himself in even deeper circumstances when he becomes handcuffed to an unwilling accomplice, Madeleine Carroll.
TRIVIA
The author of the book, John Buchan, was a Scottish diplomat who was named Governor General of Canada just as "The 39 Steps" was released. The author was said to be horrified at first when he heard what Hitchcock had done to his story but after seeing the film, was quite pleased. The tale was based on the real life of General Edmund Ironside - a member of British Intelligence.
American censors were not too happy about one scene in the film in which Donat asks Carroll if she "needs a hand" when she tries to remover her stockings.