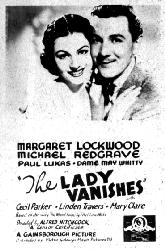 SYNOPSIS &nbsp&nbsp FILM REVIEW

A band of train travelers make acquaintances with each other until one of the passengers, Dame May Whitty, vanishes without trace.

Margaret Lockwood is chastised by the other passengers stating no such person ever existed. Being on a moving train, she believes a plot is against her and turns to the reluctant Michael Redgrave for help.

When a conspiracy does become evident, the two find themselves waist deep in a deadly web of espionage.
TRIVIA
The first credited screen role for Michael Redgrave (an accomplished stage actor) who is the father of Lynn and Vanessa Redgrave.
Hitchcock was named Best Director by the New York Film Critics Circle.
Hitch makes his cameo near the end of the movie at Victoria Station wearing a black coat and smoking a cigarette.
Wane and Radford proved so popular that they would make another ten films together.