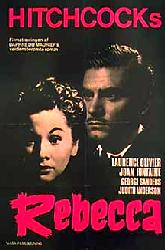 SYNOPSIS
Joan Fontaine is shy ladies companion who meets the wealthy Maxim de Winter (Laurence Olivier) in Monte Carlo. After a whirlwind romance, they marry and return to Manderlay, his country estate in Cornwall.
At Manderlay, Fontaine slowly uncovers the facts on the death of the first Mrs. de Winter (A.K.A. 'Rebecca') who died suspiciously in a boating accident the previous year. Rebecca still has an unusual grasp on everyone in the house, particularly the housekeeper, whom Fontaine believes wants to ruin their marriage and drive her insane.
TRIVIA
The first 'Hollywood' picture by Hitchcock, it was nominated for 11 Academy Awards capturing Best Picture of 1940.
More than 20 actresses were tested for the role of Mrs. de Winter. Laurence Olivier was pressing for Vivien Leigh, whom he was dating at the time. Since Olivier didn't get his choice, he treated Joan Fontaine horribly.
Hitchcock capitalized on this by telling Fontaine the entire cast hated her. This created much anxiety for her on the set which mirrored her character in the film.