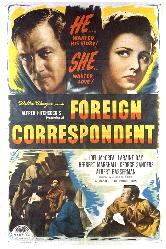 SYNOPSIS
Joel McCrea is an American newspaperman who is assigned to London as a European correspondent just before the outbreak of World War II. His first assignment is to get the inside scoop on a secret treaty between two countries by a famous diplomat.
When the diplomat is the target of an assassination attempt, McCrea enlists the aid of Laraine Day to hunt down the assassin only to learn that all is not as it seems. The chase for the truth comes to conclusion in a climatic airplane crash in the North Atlantic and the watery grave they find themselves in.
TRIVIA
Nominated for six Oscars in 1941, the tale was originally to take place during the Spanish Civil War. A total of 14 different writers were used on the project.
Hitchcock wanted Gary Cooper for the lead instead of Joel McCrea. Albert Basserman couldn't speak a word of English and learned all his lines phonetically. Robert Benchley (grandfather of "Jaws" author Peter Benchley) wrote his own lines.
The final scene was filmed only five days before the real bombings occurred.