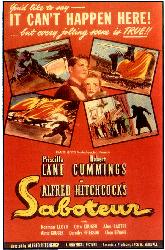 SYNOPSIS
Robert Cummings is falsely accused of an act of sabotage that destroys part of an aircraft plant.
The one chance of clearing his name is by tracking down the mysterious "Mr. Fry" but his only ally (Priscilla Lane) would rather turn him over to the authorities.
In their cross-country search, they become entangled with a network of saboteurs making it even more difficult for Cummings to prove his innocence.
TRIVIA
The capsized vessel is an actual shot of the sinking of the USS Normandie, which had been sunk by Mafia saboteurs.
The US Navy protested the inclusion of the above in the film and wanted Hitchcock to delete it.
Hitchcock wanted Gary Cooper and Barbara Stanwyck for the leading roles originally.