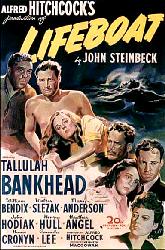 SYNOPSIS&nbsp &nbsp &nbsp FILM REVIEW

When an ocean liner is torpedoed by a German U-Boat, seven disparate survivors are left adrift in a cramped lifeboat. Tensions are high enough until a final castaway appears.

The final survivor is one of the Nazi crew members who torpedoed their ship and is the only individual with any navigational skills.

Each of the seven must make a moral decision as to whether they should put their trust in this man who may -- or may not -- save them. A debate which brings out the best and worst in each of them.
TRIVIA
Stage actress, Tallulah Bankhead, was rumored as not wearing underwear in several of the scenes which drew complaints from some of the crew.
Hitchcock, in keeping with his cameo appearances, was pictured in "before" and "after" pictures in a newspaper advertisement for Reduco the Obesity Slayer.
Several members of the cast caught pneumonia after constant exposure to cold water.