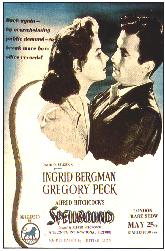 SYNOPSIS
The Chief of Staff of a mental institution is retiring only to be replaced by Dr. Edwards (Gregory Peck). Shortly after his arrival, it is revealed that Peck is not the famed psychiatrist but instead, a paranoid amnesiac impostor.
Assuming the real Edwards is dead, he goes on the run with renowned psycho-analyst (Ingrid Bergman). While assisting him solve the mystery of the real Dr. Edwards, she finds herself falling in love with a man who has no identity and -- who just might be a murderer.
TRIVIA
Nominated for six Academy Awards, including Best Picture, Best Director, and Best Cinematography. Received Academy Award for "Best Score."
The famous dream sequence was designed by Salvador Dalí. Originally planned to be 20 minutes in length, only part of it was filmed.
Despite being a B/W film, two frames (where the gun shot goes off while pointed at the camera) are tinted "red." The hand (holding the gun) is actually a giant prop to get the necessary perspective.