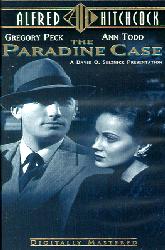 SYNOPSIS
Alida Valli is accused of poisoning her blind military hero husband, who acquires the services of attorney Gregory Peck.
Peck comes under Valli's alluring spell, threatening both his marriage and career, and soon finds himself as the only person who believes her innocence.
Tensions rise further when Valli's boy lover (Louis Jourdan) is confronted by Peck, in and out of the court room, in which a plot of adultery, murder, and suicide is revealed.
TRIVIA
The film received one Oscar nomination.
Ethel Barrymore was nominated for 1948's "Best Supporting Actress" -- which was the third time within four years that she received such recognition. She would again be nominated in 1949.
An exact replica of the Old Bailey courtroom was constructed for the court scenes.