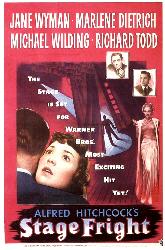 SYNOPSIS &nbsp&nbsp FILM REVIEW

Richard Todd is accused of murdering the husband of his mistress, Marlene Dietrich, a musical comedy star. He flees to the countryside until he can prove his innocence.

Jane Wyman, a friend of the accused, poses as Dietrich's housekeeper in hopes of exposing her as the real murderer.

When she meets the detective assigned to the case, Wyman finds it difficult balancing her masquerade and begins to doubt her friend's innocence.
TRIVIA
First film which Patricia Hitchcock appeared. Doubled for Wyman in a few scenes.
It is rumored that Wyman was pure aggravation to the director who emphatically refused to follow Hitchcock's directions.
Hitchcock was the first to admit that he cheated the audience by lying to them when he used a deceptive flashback sequence.
Wyman had recently separated from actor & former US president Ronald Reagan.