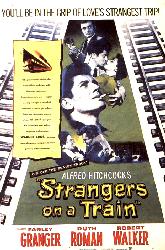 SYNOPSIS
FILM REVIEW
Two strangers, Robert Walker and Farley Granger, strike up a conversation on a train where they joke on how they could eliminate each other's problem.
When Walker decides to follow through on his part of the deal (by slaying Granger's wife), Granger becomes the key suspect.
With Walker putting the pressure on him to complete their pact, Granger must elude police and prove his innocence before Walker can frame him for the crime of murder.
TRIVIA
Academy Award nominated for "Best Cinematography" for 1951.
One version of the script ended with Walker arrested and institutionalized. The final image showing him writhing in a straight jacket.
Hitchcock stated the "man under the carousel" stunt was the most dangerous one he'd ever done and vowed never to do it again.
Walker had a nervous breakdown and died shortly after the release of this film.