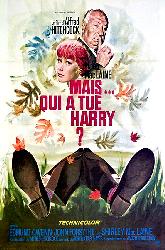 SYNOPSIS
A pristine Vermont countryside is the setting with rolling hills, flowers and - a corpse.
When a hunter (Gwenn) comes across the dead body, AKA "Harry," he believes he may have accidentally shot the man.
Wanting to dispose of the body before anyone discovers it, he finds it a vexing task as a series of misadventures occur in which other passerbys (including Shirley MacLaine in her big screen debut) become involved in the attempt to bury "Harry."
TRIVIA
Hitchcock bought the rights to the original novel anonymously for $11K.
Hitch's trademark "cameo" occurs about 20 minutes in, walking past the limousine of a man looking at the paintings.
Only one of two Hitch "thrillers" where a murder doesn't occur yet a corpse is present. The other film being the 1932 production, "Number Seventeen."