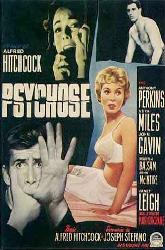 SYNOPSIS
Janet Leigh plays a woman on the run after she robs her workplace. She winds up at a deserted motel run by a seemingly innocent young man (Anthony Perkins) who cares for his elderly mother.
When "mother" becomes jealous of the woman, she takes matters into her own hands, forcing Perkins to hide the evidence.
When a family member tracks down Leigh to the motel, it seems "mother" must strike again to hide her terrible secret.
TRIVIA
After Hitch bought rights to the novel, he bought up as many copies of the novel as possible to keep the ending a secret.
During filming, this movie was referred to as "Production 9401" or "Wimpy."
1st film to show a flushing toilet on camera.
Shower scene: Blood was chocolate syrup; Perkins wasn't present during filming but in NYC; Nude model was used in some images to create realism; Over 90 edits involved.