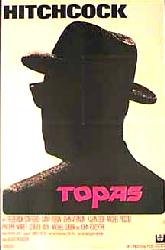 SYNOPSIS
Set during the Cuban Missile Crisis, a Russian official defects to the U.S. and reveals a French spy ring code-named "Topaz" which has been passing NATO secrets to the Soviet Union.
French intelligence agent, Frederick Stafford, is called upon to intervene for the U.S. to help reveal what the Russians are really up to in Cuba and expose the traitor.
*Based on the real-life infiltration of a Soviet agent into the administration of French president Charles de Gaulle.
TRIVIA
Hitchcock started production without a finished script or ending. Some scenes were written mere hours before they were filmed as "Vertigo" writer (Sam Taylor) was called in to do the rewrite at the last minute.
In '82, the original ending for Topaz surfaced. It was never used as preview audiences in '69 reacted adversely to it.
Hitchcock wanted to do a script titled "Kaleidoscope" instead of Topaz but Universal execs insisted on the latter.