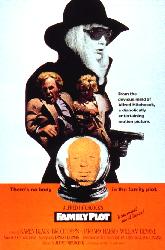 SYNOPSIS
Believing she has "pyschic powers," an aging millionaire hires Barbara Harris to locate her missing nephew who was given away for adoption years prior due to a family scandal.
The phony pyschic sleuth and her cabbie boyfriend (Bruce Dern) find themselves in an even deeper scam when they uncover an empty grave site which interferes with grand schemes of a jewel thief (William Devane), his wife & accomplice (Karen Black), and a secret that has been buried for over 25 years.
TRIVIA
Hitchcock's farewell film: A lighthearted, comedy thriller.
His final "cameo" came in silhouette, 45 minutes into the film.
Title wasn't decided on until the last minute.
Roy Thinnes was hired to originally play the character of Arthur Adamson, but Hitchcock was dissatisfied with his performance and fired him one month into the filming.