EYES WIDE SHUT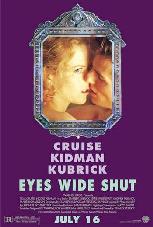 &nbsp Director: Stanley Kubrick
&nbsp Starring: Tom Cruise & Nicole Kidman
&nbsp Genre: Thriller/Drama
&nbsp Running Time: 159 Minutes
&nbsp Rating: Rated R for sexual content, nudity, language & drug use.
&nbsp Video Release: 07 March 2000
Steven Speilberg said in an interview, shortly after Stanley Kubrick's death, that he (Kubrick) wanted to "change the form." While he acknowledges he did slightly (2001) he wished to tell his stories in ways that had never been done before. His final performance, Eyes Wide Shut, may not have consummated his dream, but it is certainly a tale that is not a model of your average Hollywood production.
With Kubrick's untimely death mere weeks after the final cut, Eyes Wide Shut evolved into one of the most hyped movies of last summer. Not only was it Kubrick's first film in 12 years but the length of time it took to shoot, plus the secrecy surrounding it (a Kubrick trademark), made this film a media sensation. The long anticipated trailer, depicting images of real-life couple Tom Cruise and Nicole Kidman half naked with Chris Isaak's sultry tune, "Baby, I Did A Bad Bad Thing," lit up the headlines. Then, the controversy of a possible NC-17 rating due to the extreme nature of one particular sequence -- the now infamous orgy -- just added fuel to the fire. But like any fire that burns too hot and too quick, it tends to snuff itself out.
So -- before you rush out to see all this "great sex" in this film, best to turn on Cinemax instead and check out the soft-porn flicks featured late night. It's almost ironic, really. Isaak's song? No one does anything "bad." Both Cruise (Dr. Bill) and Kidman (Alice) don't engage in any type of carnal knowledge at all - not even with themselves. The movie focuses more on the fantasies of sex from adultery, homosexuality, threesomes, gang-bangs & orgies, cross-dressing, pedophilia and prostitution. The two "stars" never engage in anything other than some mild hugging and kissing.
The Story: &nbsp William and Alice Harford are a Manhattan couple with a seven-year-old daughter. They have an impressive apartment on Central Park West and seem to have the perfect marriage. While attending an annual Christmas party, thrown by friend Victor Ziegler (Sydney Pollack), they each experience a bit of sexual flirtation. Later at home, a heated debate about sexual fantasies pushes William into a realm where his perfect little world isn't so sound. We follow him then on a two day journey of sexual curiosity as he travels the streets of New York. He has encounters with a friendly prostitute, a flaming desk clerk, an immoral shop keeper and his lascivious daughter, an old friend, and a group of wealthy folk who like to wearing sinister costumes and do "the wild thing." From the advanced press releases, one might expect something right out of Caligula's steamparlor ...not so.
Kubrick's final film is actually an uneasy, adult psychodrama about marriage, loyalty, and sex. The sexual content is extreme but hardly excessive -- definitely not pornographic. Kubrick presents sex and nudity in a fashion that is more unsettling than erotic and the editing of the orgy sequence only adds to this theme of uncertainty. Visually, it is a sumptuous production featuring elaborate scenery mixed with carefully constructed lighting. The theme of Christmas lights, positioned throughout the film, works two fold. While it enhances the film's aesthetic look, it is also a reminder of the "season" which represents the good in man and that he's to face many tests in his journey through life if he is to move to a higher existence.
While the film was visually easy on the eyes, Kubrick didn't deny the other senses. The music in Eyes Wide Shut is seductive yet haunting. Jocelyn Pook's compositions uphold the tone for each scene they occupy. While some sequences feature lush orchestral numbers (the orgy sequence for example), the singular piano notes (which are right out of a Hitchcock film) stood out best. Most effective is the scene (DVD ed., chapter 31) that features William being "stalked" on the gray streets of the Village (actually a sound stage in the UK). Very disturbing.
In Eyes Wide Shut, Kubrick has touched upon a problem that all men and women face. We all have to concede that no matter how much love one can have for another person, we are only human. There are days when our minds may stray but, if we are to continue forward with our relationships, we must be able to separate fantasy from reality. While the ending of seemed a bit out of place from the rest of the film, Kubrick has shown us that no matter how great a filmmaker he was or no matter how great a relationship might be, he (nor anyone else) has all the answers. As Alice states: "I think we should be grateful to fate that we've emerged safely from these adventures — both from the real ones and from those we dreamed about."
Indeed, Mr. Kubrick has given us many adventures. R.I.P.
Four stars out of five.
&copy Terrence J. Brady

---

The ratings for "Pan & Scan" are broken down into a simple 1-5 scale as follows: 5 = "Forget renting it - BUY IT!"; 4 = "Definite Must Rent"; 3 = "Coin Toss" (Rent it OR wait for cable); 2 = "Wait For Cable"; 1 = "Ignore It!" (Even when it's on network TV).