THE GREEN MILE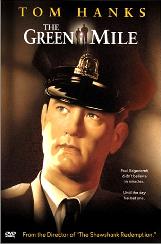 &nbsp Starring: Tom Hanks
&nbsp Genre: Drama
&nbsp Running Time: 188 Minutes
&nbsp Rating: Rated R for violence, language and some sex-related material.
&nbsp Video Release: 13 June 2000
&nbsp Tagline: "Miracles happen in the most unexpected places."

The Green Mile comes to us from the same director that brought us The Shawshank Redemption. While that latter film left us with a feeling of optimism, this latest creation by Frank Darabont leaves us with a sense of remorse.
The meat of this tale is told via flashback by Paul Edgecomb (Tom Hanks). Set in 1935 Louisiana, we are inmates to the Cold Mountain Penitentiary, where Edgecomb is head guard of E-block -- death row. While not particularly proud of his job, Edgecomb does take pride in the humanity he bestows on his intimates in their final hours.
Enter John Coffey (Michael Clarke Duncan), a gentle giant who has been accused of raping and killing two young girls. While we witness the flashback of the savage manhunt, in which Coffey is found cradling the girls' bloody corpses, we're left wondering how such a timid man (who's afraid of the dark) could commit such a vile act. The rest of the tale then focuses on the interaction between the other condemned men and the prison guards at E-block. When Coffey demonstrates a remarkable power, curing Edgecomb of his acute urinary infection, he and the other guards are forced to make a decision that may put them all behind bars.
The Green Mile features an extraordinary cast of characters, which makes this 3+ hour drama bearable. Hanks' low-key performance once again proves he is one of Hollywood's most capable (and versatile) as he doesn't upstage the brilliant performance by Duncan. Edgecomb, whose urinary difficulties are quite excruciating, to the point where some viewers may actually feel his anguish. His physical struggle is later replaced by a deeper, ethical conflict, which (again) may find the viewer reflecting on a past personal decision. Hanks is supported by a team of compassionate prison guards and an amicable warden (James Cromwell) who caters to his own suffering; his cancer-stricken wife (Patricia Clarkson).
Not all the "good guys" wear the white hats at E-block though. The exception is Percy Wetmore (Doug Hutchison), a sadistic guard who takes pleasure in making the prisoners' last days on Earth just the beginning of their eternal damnation. While Hutchison creates a despicable sadist (whom we love to hate) he does not allow himself to become a caricature of a jerk. Wetmore has deep, ingrained emotional instabilities and Coffey helps exorcise these demons -- at a price.
On the other side of the coin are the convicts -- hardly your standard lot of doomed man. Besides Coffey, there is Arlen Bitterbuck (Graham Greene II) as a stoical Native American. In his final minutes he tells a tale to Edgecomb about a summer in his youth spent with his young wife. It's a simple but heartfelt story from a man who will no longer feel the warm sun on his back or a soft kiss on his cheek.
Another inmate is Eduard "Del" Delacroix (Michael Jeter) who brandishes a thick Cajun accent and a playful, almost fiendish, disposition. He befriends the house mouse, "Mr. Jingles," whom he has hopes of someday entering into a "mouse circus." Delacroix is a very likable chap and when Mr. Jingles is squashed by E-block's sadist (Wetmore), our hearts feel equally crushed as Delacroix mourns like a father who has just lost a son.
Of course, while not all the good wear white, neither do the bad. There is one evil seed in the mix and that is William "Wild Bill" Wharton (Sam Rockwell) who is a perverse and wicked killer. Despite Will Bill's contemptuous attributes, he adds some very colorful humor to the stark situation he and the others find themselves in. Another character that helps with the comic relief is Harry Dean Stanton who cackles through his duty as the stand-in executionee.
This film succeeds for two reasons: the characters and the script. The script works well because of the interplay between comedy and drama. The comedy works like a pressure relief valve to balance out the more intense sequences -- which the film is chock full of. Examples would be the executions (one that goes terribly wrong), the cameo by William Sadler (father of the murdered girls) & the manhunt and then, there is Gary Sinise. Sinise turns in an unsettling scene as a public defender and because of Sinise's scene (plus Wild Bill's remarks), some viewers were upset by The Green Mile. But... to sugarcoat the past, just to appease a PC audience, would only go against Coffey's purpose. "I'm tired of people being ugly to each other...of all the pain I feel and hear in the world ever' day. There's too much of it."
The Green Mile is one of those movies that makes you think. While not as "agreeable" as The Shawshank Redemption, this movie is a good ol' heart wrenching yarn which is just what the soul may need. Sometimes, it does the soul good to feel a little suffering, a little remorse.... "We each owe a death, there are no exceptions, but sometimes, oh God, the Green Mile is so long...".
Give this one a 4.
&copy Terrence J. Brady

---

The ratings for "Pan & Scan" are broken down into a simple 1-5 scale as follows: 5 = "Forget renting it - BUY IT!"; 4 = "Definite Must Rent"; 3 = "Coin Toss" (Rent it OR wait for cable); 2 = "Wait For Cable"; 1 = "Ignore It!" (Even when it's on network TV).