MAN ON THE MOON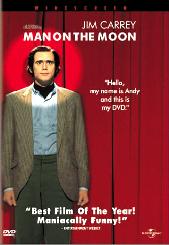 &nbsp Starring: Jim Carrey & Danny DeVito
&nbsp Genre: Comedy / Drama
&nbsp Running Time: 118 Minutes
&nbsp Rating: R for violence, brief nudity, and language.
&nbsp Video Release: 30 May 2000
&nbsp Tagline: "Hello, my name is Andy and this is my movie."

Hello, my name is not Andy and this is my review.
Man On The Moon is the biopic of the late comedian, Andy Kaufman. It's rather inaccurate actually to label Kaufman as a "comic" as he once said, "I never told a joke in my life." For him, the whole world (including his audience) was a joke. He didn't so much aim to make people laugh but to garner some sort of reaction, whether it be shock, anger or disgust.
Our story begins with Kaufman (Jim Carrey) as a young boy performing his own TV show to a blank wall in his room. We flash-forward to the mid-seventies, where he is doing the same amateur bit, on stage, but this time to a zombified crowd. His act is caught by agent George Shapiro (Danny DeVito), who sees something genuine in his act and begins to represent him. The film then takes us through the journey of Kaufman's life and how he was constantly questioned for his humor. We experience Kaufman's various personas -- the raunchy Tony Clifton, the lovable foreign man (who later becomes Latka), & Elvis -- and sit through his escapades as a inter-gender wrestling aficionado.
When he announces that he is dying of a rare form of lung cancer, many see it as another one of his "acts." Even his family and closest friends believe this is just one colossal joke on the whole world; the cruelest joke ever concocted by the legendary Andy Kaufman.
What makes this film work is Jim Carrey. Carrey does not pretend to be the late comic -- he is Andy Kaufman. Carrey picked up on Kaufman's style and mannerism so well that even director Milos Forman felt he wasn't working with Carrey but whatever incarnation Kaufman was to be that day. People who knew Kaufman said, that during the fourth month shoot, Carrey behaved as if he was possessed by the late comedian. Yes, Carrey was that good.
Most folks (myself included) best knew Kaufman as the lovable foreign mechanic, Latka, on the hit series Taxi. One of the highlights of Man On The Moon is a montage of the show featuring the original cast members (Hirsch, Lloyd, Henner, Conaway, and Kane). The only disappoint was that DeVito was already playing Shapiro, hence he couldn't relive his role as Louie De Palma.
Though Taxi was an acclaimed series, winning multiple Emmy and Golden Globe awards, it was one of the worst experiences for Kaufman. He refused to come to rehearsals, demanded mediation time before each show, and tried to wreck the production by forcing ABC to allow his alter-ego, Tony Clifton, appear in several episodes.
Tony Clifton? Clifton was the "anti-Andy." While Kaufman was a die-hard transcendental meditation guru and all-around purist, he had a dark side as well. That dark side was Tony Clifton, a sleazy and downright obnoxious Vegas lounge singer that looked and acted nothing like him. Zmuda (Kaufman's writer) said that Kaufman's contract with Paramount stated Clifton had to have a parking space next to his with his name on it -- plus his own private dressing room.
Bizarre Factoid: Kaufman and Zmuda wrote a script, "The Tony Clifton Story," that was never produced. On page 112, Tony dies of lung cancer at Cedars-Sinai Hospital. Eight years later, Kaufman dies of lung cancer at the very same hospital.
Kaufman's claim to fame is that no one knew what elaborate staged events he and Zumuda (played by Paul Giamatti) would cook up. When Kaufman became involved in wrestling he also began a bogus war with wrestling champion, Jerry Lawler. He faked a neck injury to gain press, started a fracas on "The Late Show" (another recreated scene), and pretended to bomb on stage. He wanted a reaction and a reaction is what he got.
At his real life funeral (as depicted in the film) a large projected image of Kaufman talks to his mourners. DeVito stated that any minute he expected Kaufman to come out from behind the curtain because this was the type of joke he was notorious for. Unfortunately, the "wizard" didn't reveal himself and instead we're left with the same questions we have with JFK and Elvis. "Is he truly dead?" "Will he return?" The sad fact is, the last time anyone came back from the dead was over 2000 years ago by an individual named Jesus Christ. An act many would dare not follow.
R.I.P. Mr. Kaufman. Thanks to Carrey's excellent performance, I give this film a "4."
&copy Terrence J. Brady

---

The ratings for "Pan & Scan" are broken down into a simple 1-5 scale as follows: 5 = "Forget renting it - BUY IT!"; 4 = "Definite Must Rent"; 3 = "Coin Toss" (Rent it OR wait for cable); 2 = "Wait For Cable"; 1 = "Ignore It!" (Even when it's on network TV).