OUTSIDE PROVIDENCE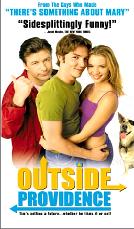 &nbsp Writers: Farrelly Brothers & Michael Corrente
&nbsp Genre: Comedy/Drama
&nbsp Running Time: 96 Minutes
&nbsp Rating: Rated R for teen drug use and strong language
&nbsp Video Release: 14 March 2000
&nbsp Tagline: There once was a boy from Pawtucket...

After the surprising success of There's Something About Mary, it would be only smart business to advertise the Farrelly Brothers' Outside Providence in the same (gross comedy) vein of Mary. Peter Farrelly, though, did not embrace this thinking and publicly criticized Miramax for marketing their most recent film as such; instead of the sensitive dramedy it esteems to be. Frankly, it's neither sensitive nor dramatic.
It's 1974 in Pawtucket, Rhode Island. Tim Dunphy (Shawn Hatosy) is a deadbeat seventeen-year-old whose existence revolves around his stoner buddies who spend each day partying and talking about sex. Tim's home life isn't all that endearing either. He has a wheelchair bound brother, whom he has great affection for, but a beer-swilling, poker-playing dad (Alec Baldwin) who loves to call Tim by his nicknames -- "Dildo" and "Assbag." While high on pot one night, Tim rear-ends a parked police car and in order to avoid criminal charges, is sent off to Cornwall Academy for Boys by his father. The snobbish institution is run by an anal retentive dorm supervisor (Tim Crowe) named Mr. Funderberk (whom Tim quickly finds himself at odds with) though the fish-out-of-water does find fellowship with some of the other 'stoner' student body members. Besides his few dorkish friends, Tim also meets Jane Weston (Amy Smart), a pretty blonde who's Brown U. bound. The two become an item and as the school year unfolds, Tim attempts to balance his new relationship while coping with his dad and the daily trials of attending a private academy.
While Outside Providence attempts to utilize the same type of humor that was so successful in Mary, it falls utterly flat on its face here. Some of the vulgar gags include a one-eyed, three-legged dog and a cripple who performs his paper route in his wheelchair (towed by a moving vehicle). Unlike the previous Farrelly comedies, the gags don't seem to work in this film and one of the reasons is the mean-spirited facet in how they are dispensed.
What this film really is -- is an adaptation of a quasi-autobiographical novel (by Peter Farrelly) which is primarily a rambling, coming-of-age tale. The script has no focus and is heavily burdened with scenes of drug and alcohol abuse with no point to them. The characters fail to build our interest in any capacity and their relationships seem forced or unmoving.
The only actor whose portrayal rises above the script is Alec Baldwin's unrefined depiction of Dunphy's blue-collar father. Baldwin builds an outstanding characterization of an adult slacker raising two sons with a surly, one-dimensional outlook on life. His "Al Bundy" persona reveals himself slowly, though isn't given enough screen time to truly paint a full picture. He is a man who keeps his love for his sons hidden but delivers dramatically when called upon. A poignant scene is when he teaches Tim how to knot his necktie. Nevertheless, this film isn't about the elder Dunphy but instead, his son.
So, here we are focusing on this Good "Tim" Hunting tale of a wayward teenager who discovers a sense of purpose with the help of those around him. Needless to say, it's a story that has been played out before and although the prep academy is as cliché as in any Hollywood flick, there are some scenes which are quite humorous. One that comes to mind is when the headmaster (George Mort) reads to Tim a wildly funny letter written (and mis-addressed) by Tim's best friend Drugs Delaney (Jon Abrahams). The problem with such scenes is they flip flop with other scenes that are starkly much more serious. An example would be when Drugs dies in a car crash while under the influence of marijuana. While the film is saturated with the joys of pot, this is one scene that attempts to convey the dire consequences if one doesn't adhere to the "Say No To Drugs" campaign. If the film had made a decision to focus on one of these two avenues, we might have had either a humorous teen comedy or a poignant family film. Instead, we have a mish-mash of the two.
Where the production does standout is the 70's rock soundtrack highlighted by artists including: The Who, The Beach Boys, Yes, Lynyrd Skynyrd, Steely Dan, and The Eagles. While the soundtrack is engaging, CD sales are a poor substitute for box office receipts making Outside Providence your typical sounds-good-but-goes-nowhere tale. The mean-spirited comedic segments don't help to elevate any of the film's cast and the outcome is about as dry as burnt toast. Alec Baldwin's performance saves this from being a "1." If there's absolutely nothing else on TV, then give it a look.
&copy Terrence J. Brady

---

The ratings for "Pan & Scan" are broken down into a simple 1-5 scale as follows: 5 = "Forget renting it - BUY IT!"; 4 = "Definite Must Rent"; 3 = "Coin Toss" (Rent it OR wait for cable); 2 = "Wait For Cable"; 1 = "Ignore It!" (Even when it's on network TV).