SHAKESPEARE IN LOVE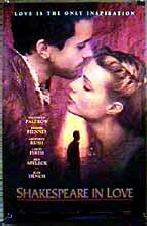 &nbsp Starring: Joseph Fiennes & Gwynneth Paltrow
&nbsp Genre: Romance/Comedy
&nbsp Running Time: 122 Minutes
&nbsp Rating: Rated R for sexuality.
&nbsp Video Release: 30 November 1999
&nbsp Tagline: "Comedy about the greatest love story almost never told."

The story of Romeo and Juliet. A timeless tale of two lovers transcending all borders, all ages, all cultures. It has been reenacted thousands of times over in college classrooms, actors' workshops, and neighborhood playhouses. One might believe it a classic with an immaculate conception -- that is has always existed in itís finest form. Shakespeare In Love shows us such is not so.
Joseph Fiennes plays the role of the budding playwright, young Will Shakespeare, whose love for words only shadows his zest for life. The stage is set: London, 1593. Will is suffering the dreaded writerís block as he attempts to author the play, "Romeo and Ethel the Pirate's Daughter." Will has already promised this play to, not one, but two competing playhouses and must seek out a muse to unblock his creative process. That muse arrives as Viola De Lesseps (Gwynneth Paltrow), a lady in waiting and fan of Shakespeare's work, who opens the floodgates of creativity for Will as he embarks on creating the now famous story of Romeo & Juliet.
Oh, if only it were that easy -- but I digress.
I was cheerfully impressed with Shakespeare In Love. The script is intelligent, whimsical, and accessible; even if you are not familiar with the play. Written by Marc Norman and Tom Stoppard, it is filled with allusions to famous Shakespearean scenes and embraces the Elizabethan language without sounding abstruse or ponderous. While there are many references to the speak, both in the production of the play and in the street, it is not to the point of distraction.
Sprinkled throughout the story is a wealth of cracks poking fun at the industry that helps us relate to the 16th century, which is not too unlike our modern age. Thereís the struggling theater owner Phillip Henslowe (played exceptionally by Geoffrey Rush) whose motto of 'the show must go on' even when thereís risk of the Bubonic Plague. [Side note -- the plague wiped out roughly 19% of the London population during this time period.] Other gags include the Thames Ferrymen who tries to get his script read by someone in the industry (his fare, Will), the tavern waiter (and wannabe actor) describing the daily specials, the cast taking part in the playís (non-existent) profit and the pampering of a prima donna actor (similar to today's stars?).
The script also works for the way it mirrored the events of young Willís life with the tale of Romeo and Juliet. The guilt Will feels for thinking he caused Christopher Marlowe's (one of Shakespeare's ill-fated peers) death as Romeo felt guilty for killing Tybalt, Viola/Julietís faithful nurse, and the love that can never be for Viola is betrothed to the cold Earl of Wessex.
What didnít work for some was the fictionalization of Williamís life. While there are those who criticized the film (most likely, the same critics who did not support Amadeus) for the liberties it took, it is the fact so little is known of Shakespeareís private life, that such liberties can be made.
Historically, the film has many flaws. Shakespeare wasnít handed the idea of the play through some bar-room conversation over a pint of brandy. Instead, he "borrowed" his tale from a 1562 poem by Arthur Brooke called "Tragical History of Romeus and Juliet." Lord Wessex planning to take his new bride Viola to a Virginia tobacco plantation? Perhaps, though it will be another fourteen years before the Jamestown colony is actually established. Shakespeare married to Anne Hathaway and has three children? Yes, though it wasnít for another decade before he began to be recognized as an actor and playwright. The list can go on.
If youíre a historian, you may not care for Shakespeare In Love. But to the masses who arenít, this film is a delightful new spin on an age old tale. Embodying an all star cast: Judi Dench (Queen Elizabeth), Ben Affleck (Ned Alleyn), Tom Wilkinson (Hugh Fennyman), Simon Callow (Edmund Tilney), Martin Clunes (Richard Burbage) and Colin Firth (Lord of Wessex), this film is a delight which should be viewed more than once.
Seven Oscars. 13 Nominations. Definite "4" in my book; perhaps even a "5" if youíre into the works of William Shakespeare.
&copy Terrence J. Brady

---

The ratings for "Pan & Scan" are broken down into a simple 1-5 scale as follows: 5 = "Forget renting it - BUY IT!"; 4 = "Definite Must Rent"; 3 = "Coin Toss" (Rent it OR wait for cable); 2 = "Wait For Cable"; 1 = "Ignore It!" (Even when it's on network TV).