BIG DADDY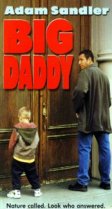 &nbsp&nbspStarring: Adam Sandler
&nbsp&nbspGenre: Comedy
&nbsp&nbspRunning Time: 93 Minutes
&nbsp&nbspRating: PG-13 for language and some crude humor
&nbsp&nbspVideo Release: 02 November 1999
&nbsp&nbspTagline: Nature called. Look who answered!

Its Animal House meets Kramer vs. Kramer!
One has to give credit to Adam Sandler. He went from an unknown in the SNL club to the $20 million club. Even if you donít care for his antics -- that in itself, is quite an accomplishment. But is he that good? Or are we just that desperate to pretend we never grew up and subconsciously live vicariously through his goofball manchild characters?
Big Daddyís $200 million box office receipts ($163.5M in the U.S.) proves there are many who wish they could chuck the nine-to-five grind, business brunches, and social responsibilities (respecting our elders, urinating in proper receptacles) we seem to find ourselves weighed down with, once we leave the nest of mom and dad. And Sandler seems quite happy to cash in on it.
Playing a 30-something law grad/slacker who prefers to sleep in and watch TV, Sonny Koufax (Sandler) finds his world turned upside down when his ambitious girlfriend (Kristy Swanson) wants to move up. What's up? Sonny has a cool $3K/month Manhattan loft (something you would see in MTVís "The Real World" and wonder how this is [real] when no-one-in-the-house-has-a-JOB!), loads of free time for her (because he works one day a week thanks to a $200K lawsuit settlement), and has some very sophisticated friends (a Hooterís girl turned M.D., a gay yuppie couple, and a illiterate foreigner who delivers take-out).
When his girlfriend leaves, his plan is to win her back by playing daddy to a five-year-old (actually played by twins: Cole and Dylan Sprouse) who gets dropped off at his doorstep one day. The rest of the film follows in the same tired tradition of movies about childish adults who find themselves when they assume responsibility for a kid. Charlie Chaplainís 1921 film, The Kid, used the very same idea almost eighty years prior -- minus the pee and vomit jokes. But if it werenít vulgar humor, it wouldnít be Sandler.
While not a fan of Sandlerís antics, Big Daddy has its moments of wit and originality. He even gets in a subtle jab at his critics when discussing the rock group Styx with his new found love interest (Joey Lauren Adams). Film critics make a ritual of bashing his movies and to that he responds: ďMusic critics who didn't like Styx back in the '70s were just cynical assholes.Ē
Sandler is no fool. Criticism (whether good or bad) is important because it keeps people talking; keeps folks interested. When they stop talking, then you begin to have problems.
Continuing with the film, it is the ending (set in a courtroom) which lets out like one too many Hooter jokes. Itís a complete wash. While the group of witnesses called to the stand prove to be somewhat engaging, Sonny's final speech is a poor attempt to convince us that he has matured making him the ideal father figure. The outrageous climax throws in some errant nonsense about paternal anxiety where the jury room is filled with individuals phoning their dads.
Big Daddy is what you would expect it to be -- flagrantly dreadful portrayal of juvenile parenting skills. To think this movie is something other than a few laughs would be a mistake as the plot unsuccessfully attempts to weave in some sort of moral by filmís end.
How would I rate this? Itís actually a mixed bag. If youíre a fan of watching Sandlerís grown-up kid character, this film can still be redeemable with its cute antics, lowest common denominator jokes, and transparent story-line. So for you, I give it 3 stars out of 5.
For those of us (myself included) who remember a time when McDonaldís didnít serve breakfast and find crude sarcasm as a poor attempt to invoke a reaction from an audience, Big Daddy (barely) gets a 2 of 5.
&copy Terrence J. Brady

---

The ratings for "Pan & Scan" are broken down into a simple 1-5 scale as follows: 5 = "Forget renting it - BUY IT!"; 4 = "Definite Must Rent"; 3 = "Coin Toss" (Rent it OR wait for cable); 2 = "Wait For Cable"; 1 = "Ignore It!" (Even when it's on network TV).